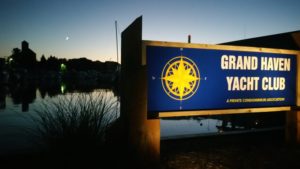 We're one of the only marinas within walking distance of Grand Haven's Downtown, which makes GHYC one of the best places to dock when you're traveling. We can accommodate boats up to 44 feet in length. Once you're docked, you'll find friendly people all around, welcoming you to enjoy a warm summer night on the on the Grand River.
Reserve Your Overnight Slip Now
All of our slips are occupied on a seasonal basis. We have a limited number of slips that are made available throughout the summer when the seasonal occupant is not using the slip. The best way to find out about slip availability and book a slip is by using the Dockwa app or by filling out the form below. Even if we don't have a slip available at the time of your request, you will be placed on our waiting list. If you do not have access to this app you can contact our Dock Master by phone.